Article
Rayana Ghosh
My city Kolkata
Auteur : Rayana
Note :

Enquête : ->
Pays : Inde

Lieu : Kolkata
Langue :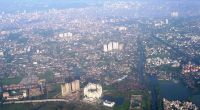 Kolkata-city of joy-famous for food and festivals-rich cultural heritage-numerous tourist attraction-memorable experience for visitors.
Kolkata , also known as the City of Joy,is the capital of West Bengal.It is situated on the eastern side of India and the River Ganga flows through it. The city is famous for its rich heritage, diverse cultural history and most importantly-food. Kolkata itself is important for its strategic location on the river bank and is adorned with several famous tourist sites. The city is home to people of different cultures,religions and languages.It is also famed for its festivals.All over it is a heavenly abode for foodies as wall as fun lovers.
Kolkata was founded by Job Charnock,a Brittisher. The city earlier was important for its location as it helped trade and agriculture.The climate is usually warm and humid for its location near the Bay of Bengal.Now Kolkjata is one of the most industrialised and politically important cities.There are several monuments like Victoria Memorial, Howrah Bridge, Botanical Gardens,Alipore Zoo , Dakshineshwar Kali Temple,National Library etc.Althougjh it is pretty and attractive, the city is polluted in some places.The food is the main attraction of the city.The streets are lined up with various itrems like Rossogolla,Mishti Doi and Phuchka.Kolkata has produced famous personalities like Netaji Subhash Chandra Bose, Swami Vivekananda,Rabindranath Tagore and Satyajit Ray. It is also hoistorically important.It is where the Battlew of Plassey took place and the first Brittish East India Company was established. Kolkata played an active role in India's freedom movement.It is also famous for its festivals like Durga Puja, Deepawali and Holi.
The people of Kolkata are mainly Bengalis and they are really friendly and fun loving. Hence Kolkata is a magnificent place for foodies and fun loving people!!
---
Contexte NEOS : Nature et environnement
Thèmes
Social, culture et mode de vie

Culture - Festivals & cérémonies
Histoire de ma région/mon pays