Article
Anushree Sadhu
Kolkata
Note :

Enquête : ->
Pays : Inde

Langue :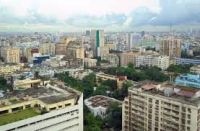 Kolkata, located on the east bank of the Hooghly River, is the capital of the Indian state West-Bengal. As of 2011, the city's approximate population was 14.1 million, making it the third-most populous metropolitan area in India.
Kolkata is known for its literary, artistic, and revolutionary heritage; as the former capital of India, it was the birthplace of modern Indian literary and artistic thought. During 19th and 20th Bengali literature was modernized by the works of authors such as Ishwar Chandra Vidyasagar, Bankim Chandra Chattopadhyay, Rabindranath Tagore and Michael Madhusudan Dutt. Apart from its literary heritage, Kolkata is also very famous for its festivals and variety of food. Among its festivals are Durga Puja, Holi and Diwali. The key elements of Kolkata's cuisine include rice and fish with a variety of desserts like the rasogolla, sandesh and sweet yoghurt known as mishti dohi.
As a growing metropolitan city in a developing country, Kolkata confronts substantial urban pollution, traffic congestion, poverty, overpopulation and other logistic problems. In recent times, due to reckless felling of trees and concretization, Kolkata has now fallen prey to the heat- island syndrome. In the heat-island syndrome due to increased concrete, the amount of heat absorbed during daytime raises the city's temperature further by a few degrees, making the city warmer.

---
Mots-clés : Kolkata
Contexte NEOS : Nature et environnement